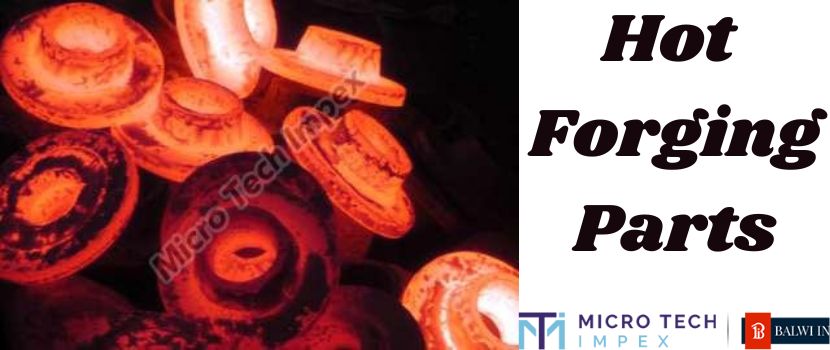 Hot forging is a metallurgical technique that uses high heat and pressure to shape and create metal objects. Hot Forging Manufacturers in India still rely on this ancient skill. It has been practised for many centuries.
The Process of Hot Forging
Hot forging is a method of melting metal by raising its temperature over the recrystallization level, typically. The substance is warmed up and then squeezed after being placed in a die to give it its intended shape. The process is very precise and may produce elaborate patterns that are exceptionally strong and long-lasting.
The Benefits Of Hot Forging
In comparison to other metalworking techniques, hot forging has several benefits. The procedure yields products with increased mechanical qualities, such as a better grain structure, high strength, and exceptional fatigue resistance. Additionally, it enables improved resource usage, lowering waste production and total expenses.
A Variety of Materials
Metals including carbon steel, stainless steel, aluminium, copper, and titanium are used by Hot Forging Manufacturers in India. The method may produce a broad variety of components for a variety of applications. This is because it can accept various material qualities.
Uses for Hot Forging Parts
Hot forging parts have several uses in the automotive, aerospace, building, oil and gas, and power-generating sectors. These components are frequently found in parts like flanges, connecting rods, gears, shafts, and gearboxes, among others.
Vehicle Industry
Precision and durability are critical factors in the automobile sector, where hot forging is essential. Engine parts, suspension systems, steering systems, and transmission parts all frequently employ forged parts.
Aviation Industry
The aircraft sector requires high-performance components that can survive harsh circumstances. Critical parts in aviation engines, landing gear, and structural components can be hot forged to provide the necessary strength.
Construction Sector
Heavy machinery, excavators, and other pieces of equipment used in the construction industry all need parts made through hot forging. They are perfect for managing big loads and challenging situations on construction sites thanks to their strength and resilience.
Gas and Oil Industry
In the oil and gas sector, where equipment operates in hostile and corrosive conditions, hot forged components are essential. Drilling rigs, valves, and pipelines all employ forged components to ensure dependable and secure operation.
Power Production
Turbines, generators, and other equipment parts used in the power production sector are often produced through hot forging. Forged components are necessary for effective power output because they can tolerate high temperatures and pressures.
Advantages of Hot Forged Parts
Improved Mechanical Characteristics
Strength, hardness, and toughness are improved in the pieces as a result of the hot forging process' excellent mechanical qualities. As a result, hot-forged components are perfect for demanding applications and crucial processes.
Fine Grain Organization
The metal's grain structure is refined during the hot forging process. This also enhances the metal's overall performance and mechanical qualities. Longer service life and improved fatigue resistance are benefits of fine grain structure.
Cost-Effectiveness
Hot forging enables effective resource usage, decreasing waste generation, and cutting costs across the board. Its cost-effectiveness is influenced by the process's repeatability and high production rates.
Better Material Properties
When material flows in a certain direction during hot forging, the resultant components have better material characteristics in that direction. The item performs better under certain loads and strains because of this directional strength.
Conclusion
A flexible and effective method of producing high-performance components with exceptional mechanical qualities is hot forging. Its uses are widespread in several sectors, including the automotive, aerospace, building, and power-generating industries.
Hot forging is a recommended method for creating robust and dependable components because of its benefits. It includes improved material characteristics, economic effectiveness, and the flexibility to deal with a variety of metals.
Hot forging components guarantee optimum performance and enhance contemporary engineering and production.